Buckner International partners with Impact Atlas to digitally streamline innovative Family Hope Centers across 14 international centers
Buckner International was founded in Dallas Texas in 1879. Buckner has since expanded and replicated its successful model to help serve children in need and preserve families all over the world.
Through its innovative Buckner Family Hope Center model, the nonprofit works to keep families together by providing critical services, aid, training and family coaching.
Buckner programs seek to engage through family assistance and community events; equip families through education, financial empowerment, child and youth development and spiritual development; elevate families through family coaching, counseling and spiritual enrichment. Family Hope Centers in its international locations also have schools, medical clinics, and water wells to meet the very basic needs of families who live nearby.

Participants in Buckner Family Hope centers in Kenya (left) and Peru (right)
Buckner & Impact Atlas
Impact Atlas is collaborating with Buckner in each of its 14 International Family Hope Center locations across 6 countries.
Buckner is standardizing its international field operations and working with Impact Atlas to improve processes, track outcomes-driven metrics, and have access to real-time data for real-time learnings and operations visibility on all its programs around the world.
"Working with Impact Atlas has been such a positive experience.  Impact Atlas has helped our team align our program processes across all locations while also creating a visual data collection system that will continue to help us improve our client impact and overall program performance."
Kandyce Ormes, MBA, LSSBB
Buckner Senior Director of Program Development & Design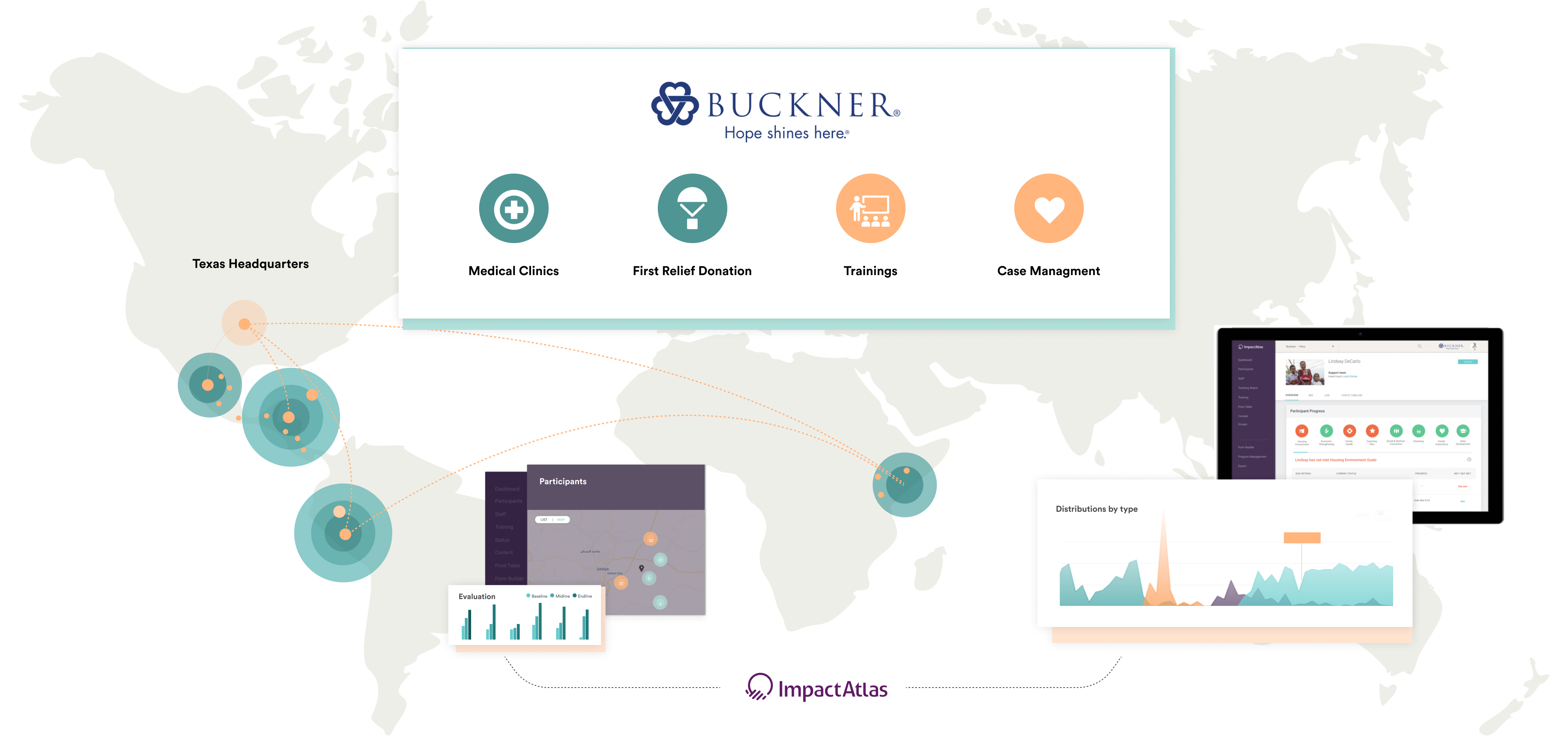 Buckner has 14 International Family Hope Centers. Within each center they have 3 innovative programs to work with participants at different phases of their need and involvement Engage, Equip, Elevate
Supporting Families with impact and progress tracking
Using Impact Atlas, Buckner will register families in each of the Family Hope Centers, track the distribution of aid and services, view the training attendance and curriculum completion, share case notes from coaching visits, and track the impact using indicators of success over time.
With telescoping dashboards, all staff at Buckner will have access to data aggregated at every level of their program, in real-time.
Impact Atlas telescoping dashboards and permissions allow visualization at each level — family profile, Family Hope Center, country director, and international director. Users will have access to the same data, all in real-time.

Buckner is currently Implementing Impact Atlas across all 14 International Centers in Peru, Guatemala, Kenya, the Dominican Republic, Honduras, and Mexico
At Impact Atlas, we are thrilled to support organizations that deeply prioritize lasting impact like Buckner International.
It is a blessing to work with teams that have the drive to continue to improve their program delivery and use data to LEARN how they can best support families around the world. Thank you for all you do!


About Buckner International
Buckner International was founded in Dallas, Texas, in 1879, to help serve vulnerable children. Today, Buckner serves vulnerable children, single parents, families, and seniors through foster care and adoption, Buckner Family Pathways, Buckner Family Hope Centers, and Buckner Retirement Services. Buckner's family preservation strategy is centered around building and strengthening families through its Buckner Family Hope Centers (FHC). FHCs seek to keep families together by providing them with critical services, aid, and coaching to keep them strong and decrease the likelihood of abuse, neglect and removal of children.
Buckner Family Hope Centers are child-centered, family-focused places where families go to find hope, support, and empowerment in their community to reach their fullest potential.\ \ To learn more visit: buckner.org